Dream Team NBA Captain Options – Week 9
Updated: December 13, 2021
Week 8 had the majority of fantasy coaches returning to stronger scores on the back of (what should have been for everyone) the captain's score of 338 from Nikola Jokic.  The numbers continue to be absurd for the Joker and he is now pushing up towards 40 FPP.  Still, we had quite a few missed games this week from prominent players.  Luka is set for a stint on the sidelines, so trade him out ASAP.  Other popular players like Paul George, Kyle Kuzma, Jerami Grant and Zach Lavine are all also expected to miss time.  Which brings me to the Chicago Bulls situation.  There is every chance that their game against Detroit in 2 days will be postponed whilst they suffer through quite a few injuries and covid protocols.  Don't field any of their players under any circumstance this week.  The Thunder also only play 2 games and it's probably a good week to be trading out Josh Giddey if you have held him to date.
The Ish Smith call didn't work out last week as he was ruled out on Tuesday morning, but we should be able to find a few more downgrade targets this time around.  Quentin Grimes had a big game against the Bucks and may earn some extra minutes going forward as a result.  He is basement price and worth sticking on your bench to try and squeeze the most out of your dollars on the field.  Terrance Davis, Armoni Brooks, Saben Lee, Brandon Boston, JT Thor, James Bouknight, KZ Okpala and Josh Christopher are all names you can consider as downgrade options as well with upside to make more dosh.
For players in the 5-10 million bracket, Kelly Oubre is really enjoying all of the extra usage and will go big again this week for 100+ in all likeliness.  Isaiah Stewart is getting more opportunities as well with Grant out for the next several weeks.  Desmond Bane has been the biggest beneficiary of Morant's injury and should see several prices increases yet.  Jalen Brunson will see the biggest upside with Luka out, Dallas won't be rushing him back as it's the same injury from 2 weeks ago that has flared up.
Captaincy Considerations
The schedule this week is a lot more well rounded with 17 teams playing 4 games this week
Giannis Antetokounmpo didn't disappoint this past week and no reason to no expect 130+ again this week, the opponents of the Celtics, Pacers, Pelicans and Cavs won't slow down the Greek Freak
Joel Embiid is back and firing as expected from last week's article.  Can he back up from that big 146, odds are on for me, he will be a top 3 performer again this week with games against the Grizzlies, Nets, Pelicans and Celtics
Steph Curry was pretty quiet this past week, but with the all-time 3pt record in sight, I can see a big week ahead.  All 4 games are on the road and 2 lots of back to back games may slow him slightly, but a week of 120 won't be a reach
Nikola Jokic will be hard to go past this week and I'll be shocked if he scores below 150.  His usage rate is through the roof and his opponents aren't the strongest this week with games against the Wizards, Twolves, Hawks and Nets.
Kevin Durant is fresh off a 51 point outing after a slowish start to the week, he still cracked the tonne.  4 games at home against the Raptors, Sixers, Magic and Nuggets should see a score if in excess of 120.
Jarrett Allen continues to churn out big scores this year, with 3 weekly totals in excess of 130 already this year from just 8 rounds.  His ownership has really grown in the past couple of weeks to 7.9% 
Will's Captain – Nikola Jokic
The form of the Joker is starting to make my weekly article a little redundant now, unfortunately, maybe next week when the Nuggets play 3 games can we look elsewhere?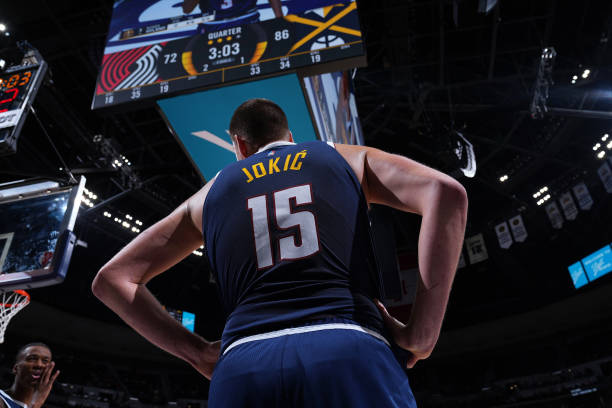 ---
Join our OTLS Monster Leagues
Dream Team NBA – 100200
---
Written by Will Webber (@wjrwebber)
Header graphic by Corey Wade Media (@CSWMedia_)
Click here to download all the latest OTLS Podcasts from iTunes.
Send us a Mailbag question to afleditor@otls.com.au
Like our OTLS Facebook Page!
Follow us @OTLSAUS on Twitter!
Join our OTLS Facebook Group!
Don't forget to join the OTLS Facebook Group for all the latest breaking news, Fantasy/Supercoach advice and general discussion AFL, BBL, NBA and more!