Dream Team NBA Captain Options – Week 7
Updated: November 29, 2021
After a week off, we're back on to things and will gloss over week 7 NBA RDT.  Firstly, a quick review of the past week that was quite indifferent with the scores of our key players. Premos like Butler, George, Davis, Adebayo, Tatum, Derozan, Lavine and Valanciunas and Morant all had off weeks through form or injury, making scores above 1000 pretty tough to achieve.  The biggest score came from left field a bit with Clint Capela scoring a whopping 138, just ahead of our usual weekly leader Giannis at 135.  It was a good week for the Hawks with Young also racking up 131, but I wouldn't be too keen to bring in either currently as their next fortnight only has 5 games.  There were some suprising tonnes from Rozier, Carter Jr and Holiday, but all of these guys don't play 4 games either this week, so probably not ideal trade targets.
Some other players to consider this week include Kristaps Porzingis has been in great form since returning from injury, the Mavs play 8 games over the fortnight.  Damian Lillard's price has bottomed out, after losing close to 2m off his starting price, the Blazers have 4 games this week too.  Evan Mobley returned to the floor this week for his first game in nearly 2 weeks, he has tonnes of cash still to make and would make for a good downgrade option if you need to find some cash for another trade.  In the cheapie market, the likes of John Kochar, Moritz Wagner, Trey Lyles and Grant Williams are all taking advantage of injuries within their squads and would all be great options for bench roles that will earn you some coin in the process.
Captaincy Considerations
We are very limited with the schedule this week with only 8 teams featuring with 4 games this week, so it will be quite a short list to review
Luka Doncic scored 60 points from just 2 games this past week and he should be a very popular trade in choice with their 8 game fortnight.  Luka should go for 115+ this week.
Giannis Antetokounmpo only plays 3 games this week, but he will surely go 100+ again this week and the pickings are pretty slim.
Jimmy Butler is a GTD, so it is fairly questionable if you keep him in your side in the first place, but if he is cleared early enough Tuesday morning he is a definite candidate as captain this week.
Damian Lillard won't be in many teams currently after his slow start to the season, but his form turned around this past week and but we know Dame can light it up when he gets cooking.
Bradley Beal is in a similar boat to Dame, with a slow start to the year, his form looks to be turning 
Will's Captain – Luka Doncic
The best of the worst in this case, hard to argue anyone else is up to the task this week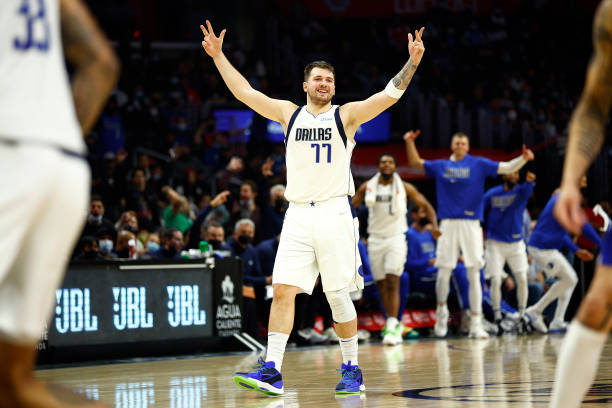 ---
Join our OTLS Monster Leagues
Dream Team NBA – 100200
---
Written by Will Webber (@wjrwebber)
Header graphic by Corey Wade Media (@CSWMedia_)
Click here to download all the latest OTLS Podcasts from iTunes.
Send us a Mailbag question to afleditor@otls.com.au
Like our OTLS Facebook Page!
Follow us @OTLSAUS on Twitter!
Join our OTLS Facebook Group!
Don't forget to join the OTLS Facebook Group for all the latest breaking news, Fantasy/Supercoach advice and general discussion AFL, BBL, NBA and more!