Dream Team NBA Captain Options – Week 3
Updated: November 1, 2021
A return to our usual programming, Nikola Jokic and Giannis Antetokounmpo dominated this past week and the only thing stopping the Joker go past 150 was  injury.  Both are slated for just 3 games this week, so will you want to buy/hold/sell?  Elsewhere, Jimmy Butler was in fine form to notching up 155.  The rest of the better performers were all big men with Anthony Davis, Montrezl Harrell and Jonas Valanciunas all delivering well.  Trez could be a good option below $11M with another 4 game week and another massive price increase imminent.
Popular picks of Julius Randle, Steph Curry, Luka Doncic, Jalen Green and Cade Cunninghame all had subpar weeks.  Cade will be eased back in, so keep him on your bench and I would look to field Suggs over Green after this week's performance.  Both Luka and Steph have 3 game slates this week and I would be looking to trade them in for someone with 4 games and better form.  I would hold off on Morant for one more week if you can when he finally gets a 4 game slate.  Dejounte Murray is playing his career best, but be aware you will need to trade him out the week after as the Spurs have a very light schedule for the foreseeable future.  Fred Van Vleet is another option, after a very quiet first week, he bounced back and has a 4 game slate this week.
Captaincy Considerations
For week three, we have 16 teams with a 4 game slate but there are many of our top premos only playing 3 games.  Here are my best options for the week
Paul George has his hands full with the Clippers struggling early doors this season, so there is ample opportunity for him to really put up big numbers.  125+ should be a bare minimum expectation considering he has two games vs the Twolves and games against the Thunder and Hornets
Richaun Holmes makes his first appearance to the captains shortlist and with his form of high FG%, rebounds and blocks, he would be a solid POD and will produce quite similarly to Rudy Gobert's numbers but at close to $3M less.
Domantas Sabonis scored a little less than expected this past week, but with the main stays not playing 3 games, he is worth considering again and should rebound to 120+.
Rudy Gobert doesn't rely on a lot of points to reach his fantasy scores and thus is a really reliable choice to bring in.  He should go 120+ again on his current form.
Julius Randle isn't likely to have another quiet round after week 1's performance,  the Knicks are cooking at the top of the east and will be in the ballpark of 110+.
Montrezl Harrell is another to make the list for the first time.  His efficiency means there aren't many negatives on his fantasy numbers and with quite a few frontcourt players from the Wizards missing still, he should be going 110+ again this week
Will's Captain – Paul George
With the high usage and fantasy friendly opponents, PG13 should be your go to and immediate target to bring in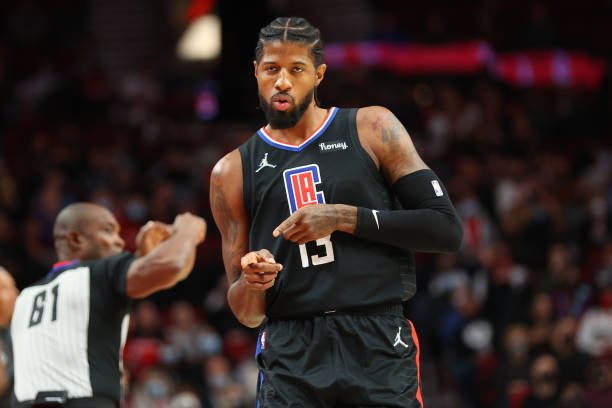 ---
Join our OTLS Monster Leagues
Dream Team NBA – 100200
---
Written by Will Webber (@wjrwebber)
Header graphic by Corey Wade Media (@CSWMedia_)
Click here to download all the latest OTLS Podcasts from iTunes.
Send us a Mailbag question to afleditor@otls.com.au
Like our OTLS Facebook Page!
Follow us @OTLSAUS on Twitter!
Join our OTLS Facebook Group!
Don't forget to join the OTLS Facebook Group for all the latest breaking news, Fantasy/Supercoach advice and general discussion AFL, BBL, NBA and more!