Dream Team NBA Captain Options – Week 18
It's getting towards the business end of the season and right now the biggest challenge is getting a full squad on the court to maximise scoring.  Something I didn't quite achieve personally.  Part of the disadvantages of living here in WA means I have to have my teams finalised by 7am and missed the news that KAT would be out for the start of the week, so I was stuck with him, kind of hoping he would sit the week so Westbrook would back me up.  I also had Leonard missing 3 games, Gary Trent Jr missing 2, and Butler and DeRozan missing a game each too.  The end result was a miserable 811 resulting in dropping out of the top 100 and posting the worst score for all teams left in the eliminator round of 32, ouch….
There were impressive scores around the league if you managed to build the right team and captain's armband.  Steph Curry had easily his best week of the season with 166.  Westbrook continued his good form and the emergent Julius Randle racked up a season high of 144 to round out the top 3.  Jokic kept doing his thing with 120 from just 3 games.
If you're looking for players less likely to rest, keep tabs on the standings and see which teams are still fighting out for playoff positioning.  With the play in mini-tournament, there will be an extra 4 teams trying to be competitive and others trying to avoid the extra games and moving into top 6 seeding.  I'd be personally staying away from players in the top seeded teams who have a glut of back to backs.  The schedule is heavy from here on out, so it might be almost impossible to dodge all the bullets every week.
Current injuries to watch as well, Jonas Valanciunas is going to be out at least 1 game this week, so look to move him on, unfortunately.  Joel Embiid is back up and running and would be a suitable replacement.  Popular trade in choice Donovan Mitchell did his hamstring and will be out for at least another week.  Zach Lavine is missing this week due to covid-19 tracing.  All of the following are listed as GTDs: Kevin Durant, James Harden, Damian Lillard, Jaylen Brown, Jayson Tatum, Jimmy Butler and Tobias Harris.  Keep close tabs on them up until lockout or look elsewhere
Captaincy Considerations
19 teams with a 4 games, slate, but importantly, only one team doesn't have back to backs in the Warriors and they are right in the hunt for the play in tourney
Joel Embiid is back and Philly sit atop the eastern conference standings.  I don't expect him to rest this week with a pair of important games against Milwaukee.  He has a game against the Warriors and will absolutely feast, putting up a fantasy score somewhere near 50 won't be unrealistic.
Giannis Antetokounmpo is off the injury list this week and should be back to his usual scoring ways again this week.  A score of in excess of 125+ will be on the cards for the Greek Freak.
Russell Westbrook continues his statistical resurgence.  The Wizards can still make the play in tourney, so whilst they are chance, Russ will keep putting up solid numbers.  3 home games out 4 this week, all against opponents sitting outside the playoff race, so we should see big numbers again.  150+ will more than likely be on the cards
Nikola Jokic will have more of a burden now with Murray done for the year.  Lock him in for another 150 and feel confident that there is an extremely low chance he will rest
Steph Curry should and will be a popular choice.  It will be hard to replicate this most recent week as he was unconscious shooting from deep.  His first opponent will be tough as the Sixers have had the best defence in the league recently and the Warriors just don't have much else offensively, so he will get plenty of attention.  Still I can see him putting up a strong performance as he drags this Warriors squad towards the playoffs.  
Nikola Vucevic has been Mr Consistent all year, he doesn't rest and rarely has bad weeks.  A safe bet for 120+ this week with extra usage whilst Lavine is out.
Other potential candidates include Clint Capela, Zion Williamson, Domantas Sabonis &  Bam Adebayo
Will's Captain – Nikola Jokic
Picking Joker just ahead of Curry this week just based on overall form and consistency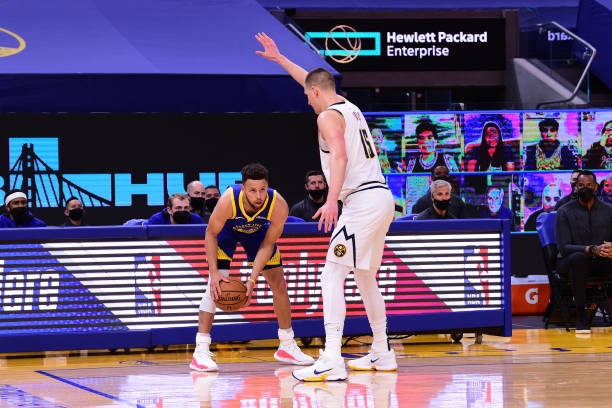 ---
Join our OTLS Monster Leagues
Dream Team NBA – 100200
AFL Fantasy – S3C46L4D
AFL Supercoach – 538129
Dreamteam AFL – 509320
Written by Will Webber (@wjrwebber)
Header graphic by Corey Wade Media (@CSWMedia_)
Click here to download all the latest OTLS Podcasts from iTunes.
Send us a Mailbag question to afleditor@otls.com.au
Like our OTLS Facebook Page!
Follow us @OTLSAUS on Twitter!
Join our OTLS Facebook Group!
Don't forget to join the OTLS Facebook Group for all the latest breaking news, Fantasy/Supercoach advice and general discussion AFL, BBL, NBA and more!